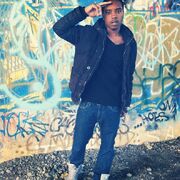 Namir is a 20 year old artist out of New Castle, Delaware.  With only 3 years in the local music industry, he has already generated a following through out the tri-state, creating multiple hits including the singles like Twerk Team, Wham, and Teach Me How To Swagg.  His music boast some of the biggest statistics on Philly's #1 blog site "
HipHopSince1987.com
".  In December of 2011, Namir won the award for "Best Delaware Artist" at the 2011 and 2012 Philly Hip Hop Awards.  Continuing his movement, Namir has been recognized and worked with many artists and producers such as Gillie Da Kid, Jahlil Beats, Sap (Prod. of The Game's Celebration),The Beat Bully (Prod. of Meek Mill's House Party and Rick Ross's Stay Schemin). Dj Bran, 106 & Park's Dj Damage, and many more.  This led the young artist to doing radio interviewsall over the country such as VA, SC, DE, and even overseas.  Currently, Namir has began work on the new highly anticpated EP "The H.U.S.T.L.E" which features the new single, "Kill Em All" He has created some of the biggest songs in Delaware history up to date, and continues to grow as time progresses.  There is much to come from this young artist including more shows, more interviews, and more hits.  Contact Namir at: 
www.Twitter.com/Namir302
www.Facebook.com/Namir302
 Google: Namir fmf
Ad blocker interference detected!
Wikia is a free-to-use site that makes money from advertising. We have a modified experience for viewers using ad blockers

Wikia is not accessible if you've made further modifications. Remove the custom ad blocker rule(s) and the page will load as expected.