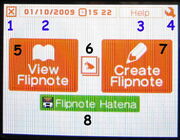 The
Flipnote Studio start screen
provides several quick choices.
Functions
Quit - Leave Flipnote Studio to the DSi menu.
Current Date and Time
The detailed manual for Flipnote Studio.
The settings.
View all your Flipnotes.
Edit last Flipnote.
Create a new Flipnote.
Go to the Flipnote Hatena service.
Shortcuts
←, Ⓨ : View Flipnote
→, Ⓐ : Create Flipnote
↑, Ⓧ : Calendar
Ad blocker interference detected!
Wikia is a free-to-use site that makes money from advertising. We have a modified experience for viewers using ad blockers

Wikia is not accessible if you've made further modifications. Remove the custom ad blocker rule(s) and the page will load as expected.