Sonic★3224 (AKA DarkMoon Kat) is an animator on Sudomemo. They Were a small part of Hatena, Joining in around 2011 and staying until it's shut down. Throughout the years, they have picked up animation skills and Finish MV's and RP's from time to time.
After the shutdown of Flipnote Hatena, Sonic★3224 took part in the Furry Fandom, creating their now most used and animated persona, DarkMoon Kat.
She still posts animations on Sudomemo every once in a while and creates art on websites. They currently take commissions and enjoy what they do.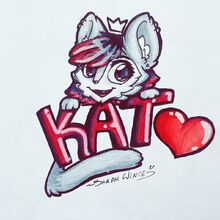 Links Below
Ad blocker interference detected!
Wikia is a free-to-use site that makes money from advertising. We have a modified experience for viewers using ad blockers

Wikia is not accessible if you've made further modifications. Remove the custom ad blocker rule(s) and the page will load as expected.