Shoot The Apple




Type

Flipnote

Creator

Release Date

2012
(YouTube premiere 1/15/2015)
Shoot The Apple was a Flipnote released to Flipnote Hatena by Andrew.
Characters
The Flipnote stars Henry, a dinosaur-like character, as the protagonist.
Henry
A reptilian character with an appearance similar to that of Spinosaurus. He is apparently friends with an unnamed character and Daniel.
Unnamed character
Henry's friend who asks the reptile to shoot an apple off of Daniel's head.
Daniel
Henry and the unnamed character's friend, who is likely fairly unintelligent.
Story
Henry is asked to shoot an apple off of his friend Daniel's head.
Video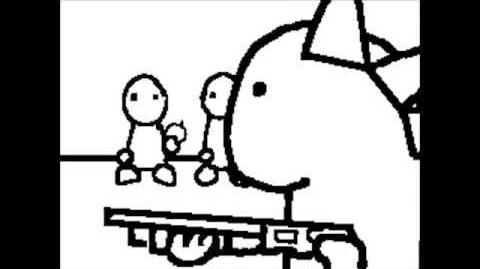 Ad blocker interference detected!
Wikia is a free-to-use site that makes money from advertising. We have a modified experience for viewers using ad blockers

Wikia is not accessible if you've made further modifications. Remove the custom ad blocker rule(s) and the page will load as expected.