In the
settings
menu you can change the behavior of Flipnote Studio. There are four pages which different settings to change.
Page 1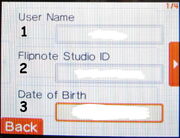 Your selected user name
Your console's Flipnote Studio ID
Your date of birth
Page 2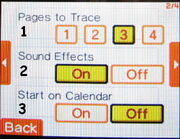 The number of pages to trace with Lightbox
Enable or disable sound effects while drawing
Choose whether or not Flipnote Studio should start with the calendar page
Page 3
If you are right or left handed
If you like to enable the advanced tools
If you like to see the frog on the drawing display for access to the main menu
Page 4
Backup Data - Store all Flipnotes from the system memory on the SD Card
Erase Data]] - Erase all Flipnotes from the console's system memory
Flipnote Friends - Manage your "Flipnote Friends"
Sample Flipnotes - Copy several sample Flipnotes to your console's system memory
Ad blocker interference detected!
Wikia is a free-to-use site that makes money from advertising. We have a modified experience for viewers using ad blockers

Wikia is not accessible if you've made further modifications. Remove the custom ad blocker rule(s) and the page will load as expected.