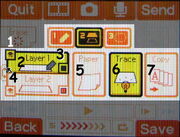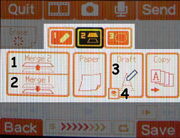 Flipnote Studio
's
layer tools
provide all functions which affecting the whole page or layer. By pressing the L-Button (or R-Button for left handed users) there are some additional functions available.
Functions
Hide/Show the layer. By clicking the eye symbol you can hide or show one of the two layers.
Select the layer. By clicking on the layer button itself you can select the layer which you like to edit.
Layer color. Change the layer color by clicking this small rectangle.
Swap layers. By clicking this small swap button, the two layers are swapped.
Paper color. Here you can change the paper color between white and black. Also changes the pencil color 'black' to 'white'.
Copy on new page. Here you can toggle if the last page will be copied when a new page is created at the end.
Functions with pressed L-Button
This merges the bottom layer into the top layer.
This merges the top layer into the bottom layer.
Activate the draft layer. After clicking this button, you return to the canvas screen and can draw on the draft (unsaved) layer.
Show/Hide the draft layer.
Ad blocker interference detected!
Wikia is a free-to-use site that makes money from advertising. We have a modified experience for viewers using ad blockers

Wikia is not accessible if you've made further modifications. Remove the custom ad blocker rule(s) and the page will load as expected.