This is a step by step tutorial how to enable the Advanced Tools in Flipnote Studio.
Step 1: Select Settings on the Start Screen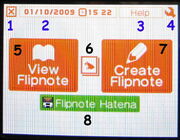 Enter the settings menu by clicking on the settings symbol labeled with number 4.
Step 2: Go to Page 3 and Enable the Advanced Tools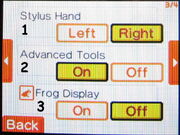 Set "Advanced Tools" labeled with number 2 to the state "On".