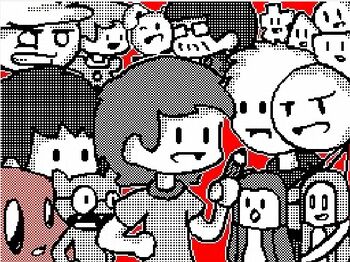 Hoot is a very popular creator who started in Sep.7 2009. Starting out with his own series "Stick Figure Bloopers" he soon became more talented in animating as he continued and went to make more original comedy flipnotes. Hoot is also most likely the cause of the asdfmovie-flipnote craze as his most popular flipnotes seem to be the asdf movie series as well as it's sub-series "The Train Collection" which also has a sequel. Hoot was slightly fond of memes such as weegee when he first joined but lately decides to parody generic flipnotes such as stick MV's and love story (RAOP) flipnotes. He currently has over 28,000 fans and nearly 8 million stars.
Ad blocker interference detected!
Wikia is a free-to-use site that makes money from advertising. We have a modified experience for viewers using ad blockers

Wikia is not accessible if you've made further modifications. Remove the custom ad blocker rule(s) and the page will load as expected.