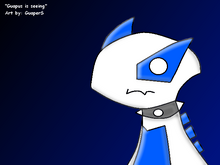 GuapS/GuaperS (Hatena id:WiiYoShi14) was a Chilean Flipnote Artist popular on Flipnote Hatena. His Flipnotes usually featured his persona of a chibi-looking Lugia with a spiked color around his neck. Some also featured his friend Alejanligatr, a fellow Flipnote artist who supposedly is a very close friend of his.
Unfortunatly, GuaperS DeviantArt was banned in 2011 for breaking one of the site's rules, and his whereabouts remain mostly unknown, or that's what people thought.
Currently you can find him by googling the name of d e s p y c l. Of course you have to avoid the spaces, this was done to prevent this page appearing on google (as to respect his desire to not be related by his old username).
Flipnote IDs
You can still view all his old flipnotes with Flipnote Studio 3D's DSi Library by entering these codes.
Original Account : 5A32823031D0AB6D
Alt Account: 52A8FA60513EFEFB 
Ad blocker interference detected!
Wikia is a free-to-use site that makes money from advertising. We have a modified experience for viewers using ad blockers

Wikia is not accessible if you've made further modifications. Remove the custom ad blocker rule(s) and the page will load as expected.