Census Ninjas




Type

Flipnote

Creator

Release Date

2012
(YouTube premiere 5/28/2013)
This article is about the Flipnote. For the article about the characters, see Census Bureau.
Census Ninjas was a Flipnote released to Flipnote Hatena by GUS.
Characters
Stick Friend
Main article: Stick Friends
This Stick Friend, a stick figure, refuses to cooperate with the Census Bureau.
Census Bureau
Main article: Census Bureau
A pair of law-enforcing census ninjas who despise the Stick Friend.
Story
One of the Stick Friends does not want to give the Census Bureau his census.
Video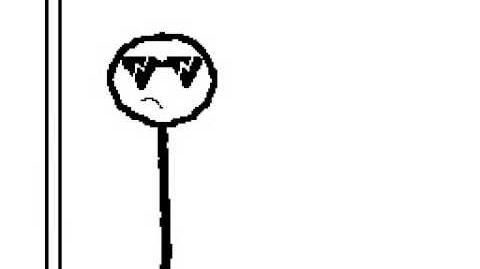 Transcript
(A doorbell sounds.)
Stick Friend: (rushes to door) What do you want?
Census Ninja #1: Hello, sir. We're from the Census Bureau, and we came to help you fill out your census.
Stick Friend: The Census Bureau? Aaahh!!!
(Heavy metal music plays.)
Census Ninja #2: Should we barge in through the front door?
Census Ninja #1: Whatever it takes.
Census Ninja #2: Ya! (gasps)
Stick Friend: (blows raspberry)
Census Ninja #2: After him!
Stick Friend: (hops onto scooter, breathes heavily) How are they ever going to catch up to...oh, my gaaaahhhhhhh....
(The Census Ninjas have set up a slingshot made of string, and the Stick Friend is launched on top of a truck. The Ninjas kick a man off of his motorcycle and steal it.)
Motorcyclist: Ugh!
Census Ninja #1: I got this.
Stick Friend: Ah, leave me alone!
Census Ninja #1: Give it to me.
Stick Friend: Back off, man!
Census Ninja #1: Uh, sure.
Stick Friend: Wimp!
(An explosion causes the Stick Friend to fall off of the truck, and the census falls out of his hand and into the second Census Ninja's grasp.)
Census Ninjas: Success!
Ad blocker interference detected!
Wikia is a free-to-use site that makes money from advertising. We have a modified experience for viewers using ad blockers

Wikia is not accessible if you've made further modifications. Remove the custom ad blocker rule(s) and the page will load as expected.