This article is about the individual who created the series Sheldon & Mr. Randoms. If you are looking for the article about the character in the show modeled after the creator, click here.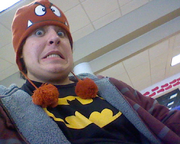 Anthony Capodieci (also known as, simply, Anthony) is a creator on Flipnote Hatena who joined in 2009, and has been using Flipnote Studio since it first was available on the Nintendo DSi shop in the America's region Anthony has over 5000 fans, and has over 1,500,000 stars. Anthony dreams to be an actor one day.
Biography
Anthony was born on March 17, 1994 in New York and moved to live the country life in 2002. Since then, Anthony has drawn many comics of cartoon characters, and eventually created his own characters and series. His first series was called "The Happy Boy," about a stick figure who went on simple adventures. Anthony began to draw more comics with more details and better storylines. He showed them to friends. Some of the most notable comic strip characters were Jake and Tony, stick figures with swords who battled evil people and demons, and Do Dah Man, who came from a planet of duck-beaked beings and moved to Earth. Anthony received a Nintendo DSi console and created Flipnotes. While testing to improve lip syncing, Anthony started a Flipnote about two stick figures, who would become Sheldon & Mr. Randoms.
Flipnotes
Also known as
S&M
,
Sheldon & Mr. Randoms
i
s the the most well-known series by the creator. It stars a pessimistic stick figure named Sheldon who is constantly attempting to find some peace away from an unpredictable man known as Mr. Randoms.
Camera Animations
These are Flipnotes that Anthony makes using the Nintendo DSi camera and uploads to Flipnote Studio, making stop motion flipnotes. Photos have been used in Sheldon & Mr. Randoms as well.
Links
The following are links to this creator's profiles across the Web.
Ad blocker interference detected!
Wikia is a free-to-use site that makes money from advertising. We have a modified experience for viewers using ad blockers

Wikia is not accessible if you've made further modifications. Remove the custom ad blocker rule(s) and the page will load as expected.