1901 MV




Type

Flipnote

Creator

Release Date

May 28, 2013
(YouTube premiere 5/28/2013)
May 2015 (Sudomemo)
1901 MV was a musical Flipnote released to Flipnote Hatena by GUS.
Characters
Fernando
The main character in the Flipnote (as well as of GUS's Flipnotes in general) who appears several times throughout the video.
Stick Friends
Fernando's two companions who sing along to the music.
Phil
An antagonist of TeenChat who appears in one scene of the music video.
Census Bureau
Two stick figures who debuted in GUS's Flipnote Census Ninjas and make an appearance in a singular scene of this video.
Story
Fernando, the Stick Friends, and GUS's renditions of various other Flipnote characters (notably Phil from TeenChat) star in a music video.
Video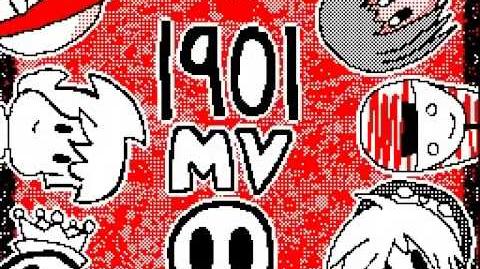 Ad blocker interference detected!
Wikia is a free-to-use site that makes money from advertising. We have a modified experience for viewers using ad blockers

Wikia is not accessible if you've made further modifications. Remove the custom ad blocker rule(s) and the page will load as expected.